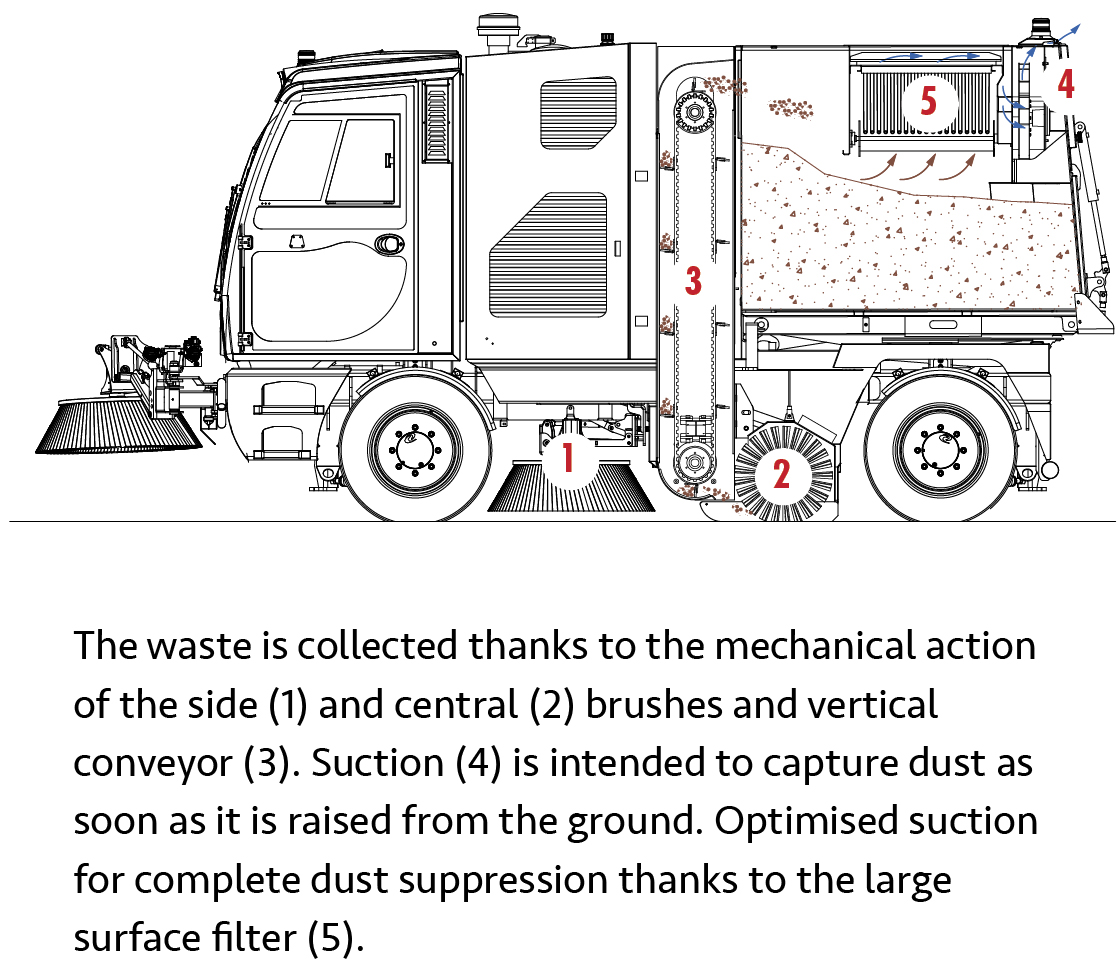 MECHANICAL-SUCTION SYSTEM
Up to 3 times more powerful suction: its exclusive mechanical-suction system, with the combined action of brushes and turbine, works at a speed up to 3 times higher than the traditional systems.
By means of its side brushes and front brush (optional), Mechanical phase, debris are directed towards the big main roller brush that lifts dust from the ground.
Through a conveyor combined with a paddle conveyor, debris go inside the hopper thanks to the depressive action of the rear powerful turbine, Suction phase.
Suction is also optimized in order to allow complete suppression of dust, thanks to the large-area filters (available also with filtering level PM1).
TECHNOLOGY IMPROVING EVERYONE'S WORK
Each machine is designed with the specific goal to make the cleaning work easier and safer for operators, more profitable for companies, more performing for the wellbeing of people and environment.
These criteria guide each decision in terms of design and construction, by bringing the standard set-up of all MACROCLEAN machines to a level reachable for the other competitors only with the purchase of optional features.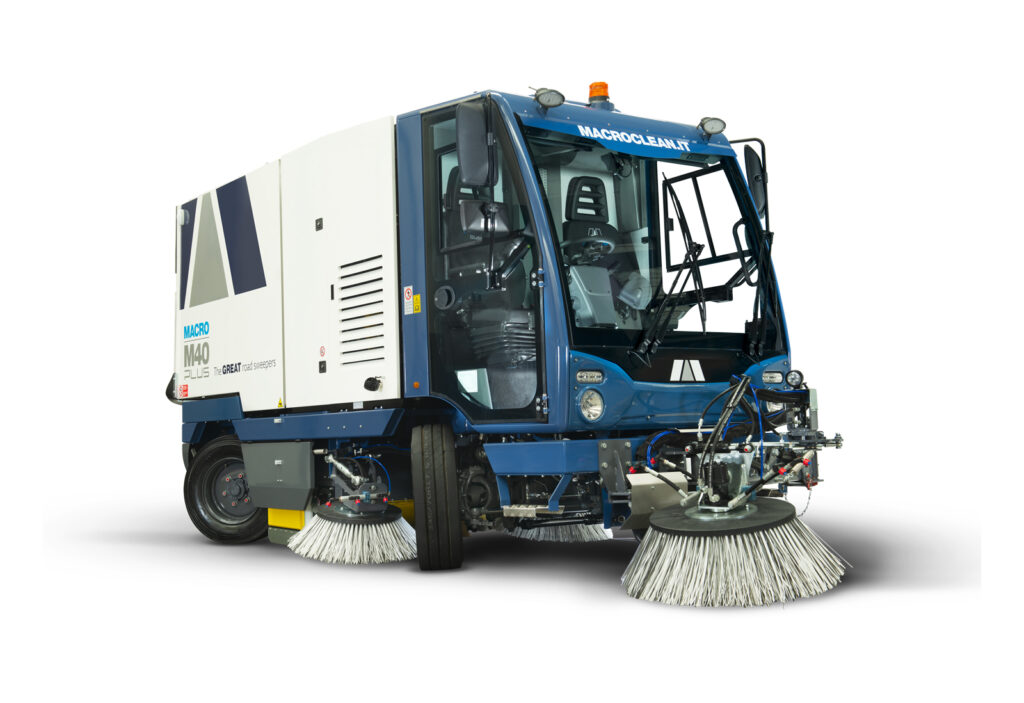 SMALL DETAILS FOR A BIG DIFFERENCE
Basic equipment with electronic diagnostic: all the machines are equipped with the remote monitoring system of the functions for a more timely maintenance and a full control of operating costs.
GREAT COMFORT AND SAFETY FOR DRIVER
A MACROCLEAN machine is built exactly the way an operator, who drives it for the whole working day, would like: easy to use, comfortable in terms of ergonomy, acoustics, air conditioning and above all safe. All the models are built with an exclusive damping system, that, by minimizing vibrations, offers a comfort immediately perceptible and protects the operator wellbeing in the long run.
STEERING WITHOUT KNUCKLE FOR AN IMPROVED DRIVING COMFORT
UNIFORMITY OF CONTROLS ON THE VARIOUS MODELS TO FACILITATE OPERATORS
AIR-CONDITIONING SYSTEM AND OPERATIVITY UP TO +50°
YELLOW BRUSHES FOR AN IMPROVED VISIBILITY AND CONTROL OF OPERATIONS
CRUISE CONTROL ON ALL THE MODELS FOR A UNIFORM CLEANING AND DRIVING COMFORT
EASY START BUTTON FOR SIMULTANEOUS ACTIVATION OF ALL THE BRUSHES
MORE PRODUCTIVITY AND LESS OPERATING COSTS
To maximize suction capacity and that in the waste transport means to make each hour of work much more efficient and therefore profitable. But the economy of MACROCLEAN machines does not stop there. There are a lot of design and constructive features that, by limiting the wear of machines and optimizing the use of components, make their maintenance less necessary, cheaper and easier.
HOPPER CAPACITY UP TO 6M3 AND 6000 KG
OPTIMIZATION OF IDENTICAL COMPONENTS ON THE VARIOUS MODELS TO SIMPLIFY MAINTENANCE
STAINLESS STEEL BOLTS FOR A GREATER DURABILITY
CLEANING COST/SQM REDUCTION BY ONE THIRD.