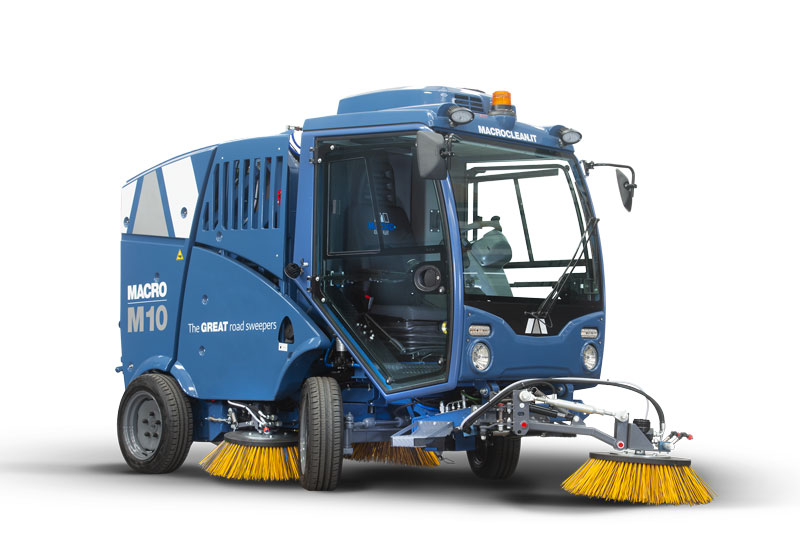 CLEANING WIDTH 1800 mm OPT 2200 mm
HOPPER CAPACITY 1 m3
HOPPER DUMPING HEIGHT 1500 mm (OPT 2500 mm)
MAXIMUM SPEED 25 km/h
KERB TO KERB TURNING RADIUS 3550 mm
TWO FRONT STEERING WHEELS
FULL LOAD WEIGHT 2930 kg
MACRO M10 is a road sweeper of next-generation, conceived to clean and designed for pleasure. It is convincing for its ease of use and great manoeuvrability. Moreover, the cabin comfort is ideal for long work shifts.
Its solid structure and exclusive geometry are conceived to work in the city centre: from pedestrian zones to porches, from parking spaces to squares. The machine can be equipped also with cleaning equipment of urban furniture.
Electronics has undoubtedly made our lives easier in many ways, and MACRO M10 is no exception. The on-board diagnostic system ensures that
any failure, even those not perceived by the operator, are promptly reported.
Thanks to a coding system, all you have to do is communicate to the service centre the code that appears on the display and technicians will be ready to solve the problem.
To avoid distractions while driving, the controls of MACRO M10 are made of physical buttons that can be easily located and operated.
To make the machine even easier to use, pressing the EASY START button automatically activates all the machine functions. Moreover,
thanks to a simple command it is possible to vary diesel engine speed according to the working conditions.
Whoever used a sweeper knows how problematic it can be a clogging of the suction mouth. Other than problematic, cloggings
can be very common, especially in the autumn season. Macro M10 was designed so that it can lift
its suction mouth up to a meter from the ground. This allows to remove obstructions easily, without being obliged to lie down under the machine.
The cabin of M10 is the state of the art for
everything related to the well-being of people. Comfortable and spacious, it has been carefully insulated from outside temperature, noise, vibration and dust to make long shifts less tiring. In addition to the roominess, another important aspect is given by the robust and intuitive controls: with a few simple moves you can make the most of the great cleaning performance of M10, without
adversely affecting the drive.